Published: May 10, 2010
The Indian Health Service recently launched its "Community Uranium Exposure: Journey to Healing" program with free health screenings and a showing of "The Return of Navajo Boy" in Cove, Arizona. The program, which includes screening Groundswell's documentary "The Return of Navajo Boy" is based out of an 18-wheel truck known as the Wellness on Wheels van.
The first stop was the Navajo Chapter House in Cove on April 29th, featuring an appearance by Elsie Mae Begay, who has acted as a uranium contamination awareness ambassador after her appearance in the documentary. Elsie, accompanied by her son Lorenzo and daughter in law Mary Helen, took advantage of the opportunity and accepted a health screening herself.
Groundswell's film, shown at the event, "has proven its ability to give Navajos a voice in the larger society" according to Lisa Allee, the director of the Community Uranium Exposure: Journey to Healing program. Groundswell co-founder Jeff Spitz was also able to attend the screening and answer questions, thanks to generous support for community outreach provided by the Ira Ziering Foundation.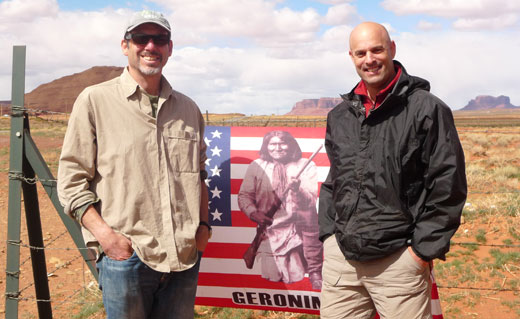 Ira Ziering (left) and Groundswell's Executive Director Jeff Spitz (right) at the recent Cove, AZ health screening event.
Presentations were also made about the health impacts of uranium the abandoned uranium mines in the area, and the effects they have on local water sources. The Indian Health Service looks forward to using the film at future events as a way to show the dangers of uranium contamination and the importance of health screenings.
The event made the front page of the Gallup Independent on May 1st: