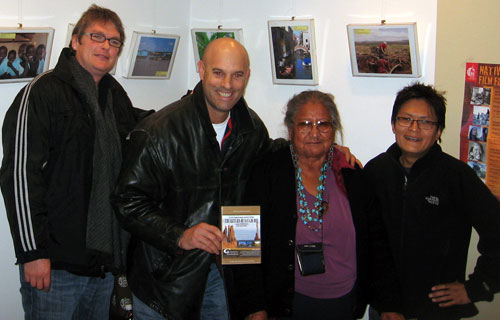 Above, left to right: Professor Leighton Peterson, Director Jeff Spitz, Elsie Mae, and Co-Producer Bennie Klain after a screening at The University of Miami (Ohio).
To arrange a booking, please contact Jeff Spitz either by email (
jeff@groundswellfilms.org
) or phone (773-771-7697).
The Return of Navajo Boy, along with its central subjects and producers are available for bookings at colleges, universities, high schools, conferences, museums and other venues year-round. Here's what some professors and others have to say about the film:
"It's hard to imagine teaching a course in Native American studies or culture without using this remarkable film. It documents real people and real tragedies and depicts Navajo culture with unusual realism and understanding. The film is instructive, thought-provoking, and heartwarming, and addresses many critical environmental issues in addition to illuminating so much regarding Navajo history and family life. Highly recommended!"

- Duane Champagne, Director, American Indian Studies Center, UCLA
"I used this remarkable documentary in a large U.S. history survey course comprised mostly of students from Southeast Asian and Central American immigrant-refugee communities... Although centered on the experiences of one Native American family, this film is an instructive text for all of us living through this era of pervasive social disasters and profound displacements."

- Art Hansen, Prof. of History and Director, Oral History Program, California State Univ., Fullerton
"This is what documentary filmmaking should be. The film repositions adversity and injustice involving a Navajo family from one of the most glorious places on earth, Monument Valley, Utah, to free the truth about the exploitation of America's Indians through illegal adoption, uranium mining, and Hollywood image makers, all of which profit shamelessly from Indians."

- Prof. Beverly R. Singer, Director, Alfonso Ortiz Center for Intercultural Studies, Univ. of New Mexico
"Teachers in our Facing History and Ourselves Summer Institute were moved to laughter and then tears by this powerful film, and are eager to use it in history, English, and science classrooms to enhance important conversations and lessons about identity and the power of labels, membership and participation in society, and issues of justice and judgment. Students will be fascinated and deeply moved by this family story. Even though the film runs 57 minutes and class periods are often shorter, middle school and high school teachers can definitely incorporate Navajo Boy into classroom periods by showing the film in two parts and by contextualizing and processing its important themes."

- Jack Weinstein, Director, San Francisco Bay Area, Facing History and Ourselves
To arrange a booking, please contact Jeff Spitz either by email (
jeff@groundswellfilms.org
) or phone (773-771-7697).